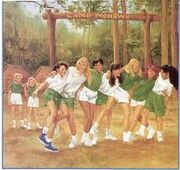 Baby-sitters' Summer Vacation

Baby-Sitters' Super Special

, # 2
Author

Ann M. Martin

Tagline

Good-bye, Stoneybrook...hello, Camp Mohawk!

Published on

July 1989

Published

Scholastic, Inc.

PUBLICATION ORDER
←
Previous

Baby-Sitters On Board!

→
Next

Baby-Sitters' Winter Vacation
Stacey is reuniting with her BSC friends at Camp Mohawk, a summer camp presumably in the Catskill Mountains of New York. All of the BSC members are going, along with several BSC charges. Stacey , Kristy , Mary Anne , Claudia , Dawn , and Logan are selected to be Councelors In Training (CITs). Jessi and Mallory are regular campers who are given the title of Junior CIT because they coordinate the end of camp show. Stacey decides she wants to write a camp journal/scrapbook of their two week stay and ask all of the club members to keep notes of their time.
Back Cover Summary
Edit
This summer, the Baby-sitters and a whole bunch of the kids they sit for are going to Camp Mohawk! With the girls as counselors-in-trainin, and the kids as campers, it'll be just like baby-sitting- in the woods!
The Baby-sitters soon discover that camp isn't just nature walks and making lanyards. Daw gets lost in the wilderness overnight. Kristy learns how to use mascara, and Mary Anne gets caught sneaking over to the boys' side of the camp. Stacey spends the two weeks with poison ivy...and Claudia falls in LUV with a boy CIT.
This is one summer vacation the Baby-sitters will never forget!
Mary-Anne
Edit
Other stories/plotlines
Edit
Ad blocker interference detected!
Wikia is a free-to-use site that makes money from advertising. We have a modified experience for viewers using ad blockers

Wikia is not accessible if you've made further modifications. Remove the custom ad blocker rule(s) and the page will load as expected.