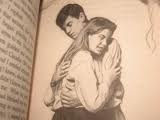 Samuel "Sam" Thomas is the 15-year-old son of Elizabeth Thomas-Brewer and Patrick Thomas.
He is the younger brother of Charlie Thomas. He is the older brother of Kristy and David Michael Thomas.
He is the stepson of Watson Brewer. He is the stepbrother of Karen & Andrew Brewer and the adoptive brother of Emily Michelle Brewer.
Sam is described as having dark curly hair, sparkly blue eyes and a few freckles. He is also a champion practical joker.
He attends Stoneybrook High School with Charlie where he is a member of the math club, plays the clarinet in the marching band and plays intramural basketball.
At the Thomases' old house, he used to share a bedroom with Charlie.
Interests & Hobbies
Edit
Loves to play & follow baseball; used to play baseball
Likes anchovies
Girls are always on his mind
Is musical and plays a number of instruments
Sam delivers groceries for A&P. He works there part time during the school year. During the summer, he was a camp counselor.
Relationships
Edit
Stacey McGill (likes her; went out a few times, but thinks of her as a friend)
Tamara (went to the movies with her)
Amanda Martin (took her to the Spring Dance)
Kathy
Monique (had a crush on her)
Ad blocker interference detected!
Wikia is a free-to-use site that makes money from advertising. We have a modified experience for viewers using ad blockers

Wikia is not accessible if you've made further modifications. Remove the custom ad blocker rule(s) and the page will load as expected.